Vending Machines in Houston Texas
The vending equipment we place meet Energy Star rated, top-of-the-line, and conserving electricity with LED lighting. Rest assured your purchased items will be delivered, or sensors inside the machine will refund your money. Find nutritional information on the screen to ensure you know what you're buying, before you make the purchase. We believe today's discerning workplaces deserve vending that uses today's best technology.
You can't have superior vending service without a superior vending machine – see the difference for yourself with equipment from Hometown Vending at 281-305-8363
Healthy Vending in Houston Texas
Healthy Vending Machines in Conroe, Houston, The Woodlands
Hometown Vending is an enthusiastic promoter in the move to fresh healthy vending choices for businesses in The Woodlands Texas, Conroe, Houston, Magnolia, Tomball, New Caney, Humble, Huntsville, Willis, Spring, and Cypress. Today people everywhere are opting for snacks and meals that allow better health, keep weight in check, have lower salt, and contain fewer manufactured substances.
Our healthy vending choices will keep your staff happy and satisfied. You get better work, more productivity, and fewer days lost to illness. Best of all, you and your staff will notice the added energy and enthusiasm after enjoying healthy snack and food choices with fewer calories, lower sodium, less sugar and fat. We offer healthy options that fit into the wellness initiatives that are now required at many companies. Hometown Vending offers a complete line of healthy snacks and beverage vending machines for your Conroe, Houston, or The Woodlands area business.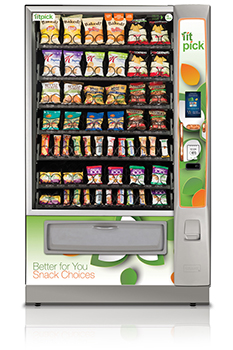 We use Stream VMS to run operations!
We love technology and understand the importance of using a vending management software system to help run our business.
Manages daily cash management, location and machine totals, and more!
Our commissioned customers have browser login access!
Tracks route times, scheduling, cash meters, and more!
Accurate driver location and machine performance reporting!
Hometown Vending offers the best technology, excellent service, and honest commissions!
Traditional Vending
This is likely the kind of vending machine you are most familiar with. Employees or customers pay when selecting an item. This is a simple, direct method we find most people are happy with.
Subsidized Vending
This method is a big favorite with employees. A portion of the cost is subsidized by the company so the employee pays a lesser amount. Many companies think of this as an employee benefit that yields great satisfaction at a cost far lower than traditional company benefits.
Free Vending
Offering all items "free" is a growing trend in many companies and organizations that want to keep their best employees working year after year at top levels of productivity. Here the company off sets the entire cost and vending machine products are free for employees. We make this easy for you by providing an invoice of what items sold monthly.
Machine & Equipment Gallery
Ready for a change...
Thank YOU for visiting our site and learning more about Hometown Vending. Our goal is to give you top-of-the-line Vending Service along with an exceptionally wide range of snack choices. You'll love our modern, reliable vending machines along with 24/7 service that guarantees you never have to go without your favorite snack or beverage. If you need vending service in any of the communities in North Houston, we would be delighted to hear from you. Or, simply ask a question or offer a comment.
1221 Honea Egypt Road, Magnolia, TX 77354
M-F: 8am-5pm, S-S: Closed