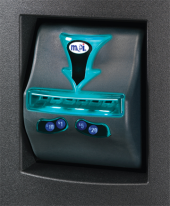 Are you looking for a vending machine company that continually strives to offer added value to your staff and students?  If so, look no further than Hometown Vending of Conroe, Houston, and The Woodlands Texas areas.  Our new M.E.I. Bill Acceptors take ones, fives, and tens and gives change back in dollar bills!! No more messing around with a pocket full of quarters after purchasing.
We have yet to see any of our competitors offering such a valuable tool that allows more choices and great flexibility when purchasing from a Hometown Vending Machine.  This cutting-edge device continues to escrow dollar bills enabling it to return dollar bills instead of quarters.
Many of our vending machines will receive the new upgrade, however, some won't. If you would like us to insta
ll one in your Hometown Vending Machine… please call or email us today and we can discuss further. As always, thank you for your continued business.